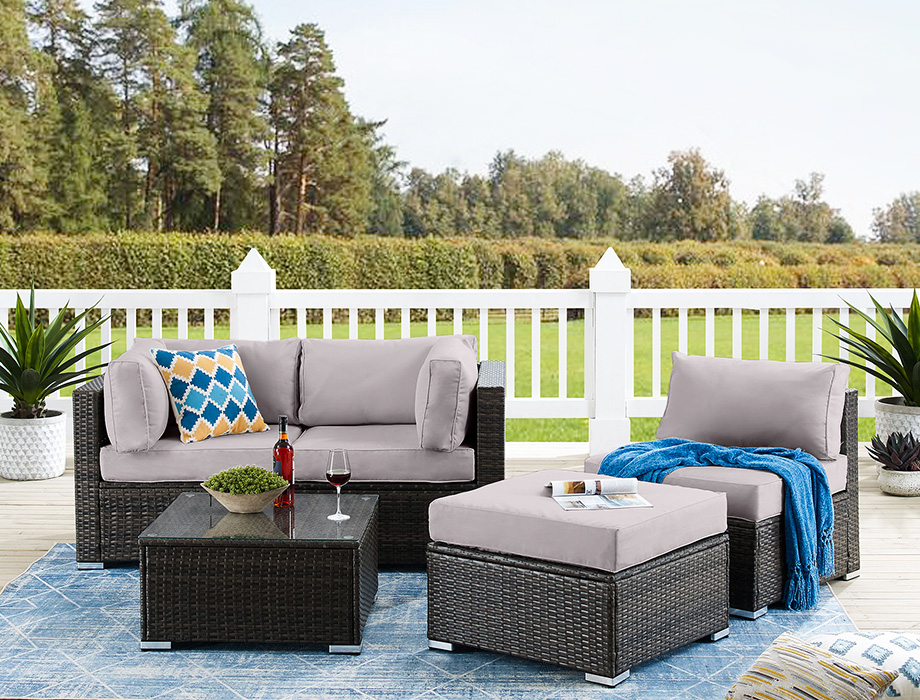 With so many options — wood or metal, expansive or compact, with or without cushions — it's hard to know where to start. Here's what the experts advise.
A well-furnished outdoor space — like this terrace in Brooklyn by Amber Freda, a landscape designer — can be as comfortable and inviting as an indoor living room.
When the sun is shining and you have outdoor space, there are few things better than spending long, lazy days outside, soaking up the heat and dining in the open air.
If you have the right outdoor furniture, that is. Because lounging outside can be as inviting as kicking back in a well-appointed living room — or as awkward as trying to get comfortable on a worn-out sleeper sofa.
"An outdoor space is really an extension of your indoor space," said by Los Angeles-based interior designer who has created furniture for Harbour Outdoor. "So we look at decorating it as a room. I really want it to feel very inviting and very well thought out."
That means that collecting the furniture involves more than just haphazardly picking out pieces in a store or on a website. First, you need a plan — which requires figuring out how you'll be using the space and how you'll maintain it over time.
Make a Plan
Before buying anything, it's important to think about your larger vision for an outdoor space.
If you have a large outdoor space, it may be possible to accommodate all three functions — a dining area with a table and chairs; a hangout space with sofas, lounge chairs and a coffee table; and an area for sunbathing equipped with chaise longues.
If you don't have that much room — on an urban terrace, for example — decide which activity you value the most. If you love to cook and entertain, focus on making your outdoor space into a destination for meals, with a dining table and chairs. If you prefer relaxing with family and friends, forget the dining table and create an outdoor living room with sofas.
When space is tight, often recommends forgoing chaise longues. People tend to romanticize them, but they take up a lot of space and may be used less than other furniture.
Know Your Materials
Outdoor-furniture manufacturers use a wide range of durable materials, most of which fall into two groups: those that are meant to be impervious to the elements, maintaining their original appearance for many years, and those that will weather or develop a patina over time.
If you want your outdoor furniture to look brand-new for years to come, good material choices include powder-coated steel or aluminum, stainless steel, and plastics resistant to ultraviolet light. But even those materials can change when exposed to the elements over the long term; some fading, staining or corrosion isn't uncommon.
Consider Cushions
One of the most important decisions you'll make when shopping for outdoor furniture is whether or not to have cushions, which add comfort but come with maintenance hassles, because they tend to get dirty and wet.
What About Storage?
A lot of outdoor furniture can be left out all year long, especially if it's heavy enough not to blow around in storms. But cushions are another story.
To preserve cushions as long as possible — and to ensure that they'll be dry when you want to use them — some designers recommend removing and storing them when they're not in use. Others recommend protecting outdoor furniture with covers.
Both of these strategies, however, are labor intensive and may discourage you from using your outdoor space on days when you can't be bothered to put out the cushions or uncover the furniture.
---
Post time: Aug-03-2022